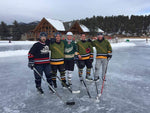 When I was younger, skateboarding and hardcore/punk shows dominated my free time.  I always loved showing off my love for those things. My closet was a statement of the things I loved and supported, filled with skate company and concert shirts. As an adult, the same fire burns inside. Skateboarding gave way to an obsession with hockey and a career in tattooing took over my life. 
I wanted to wear shirts and hats that simply showed my love for hockey. I was always disappointed when I went to the local hockey shops at what was available. There was almost nothing unique out there for hockey apparel.
There was something missing. 
I started brainstorming VICTOR in the summer of 2016. After many months and many cold beers, I had a direction and plan. A brand that would appeal to a little part of everyone, but would make you stand out from the crowd. A unique product that allows you to show your love for the greatest game in the world.